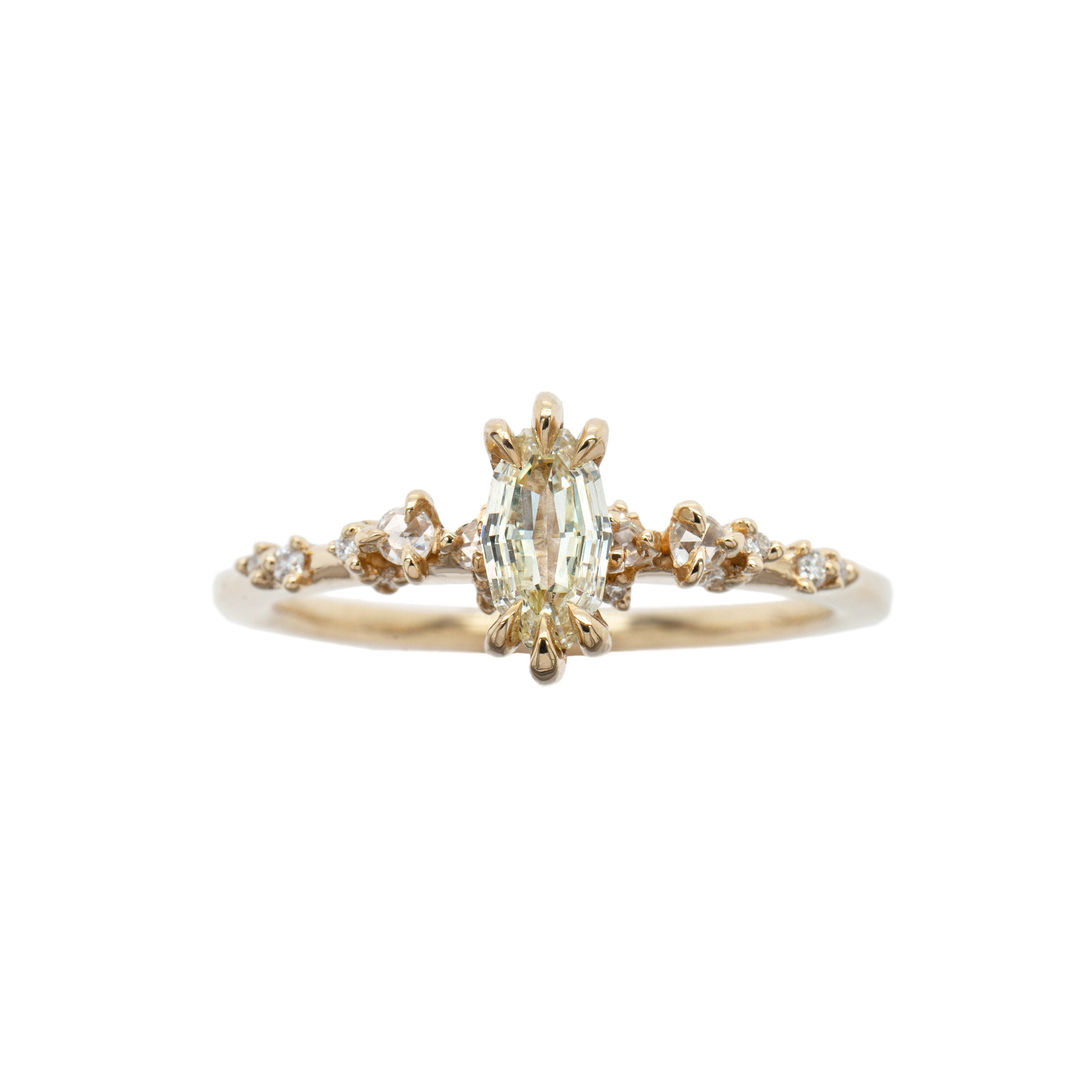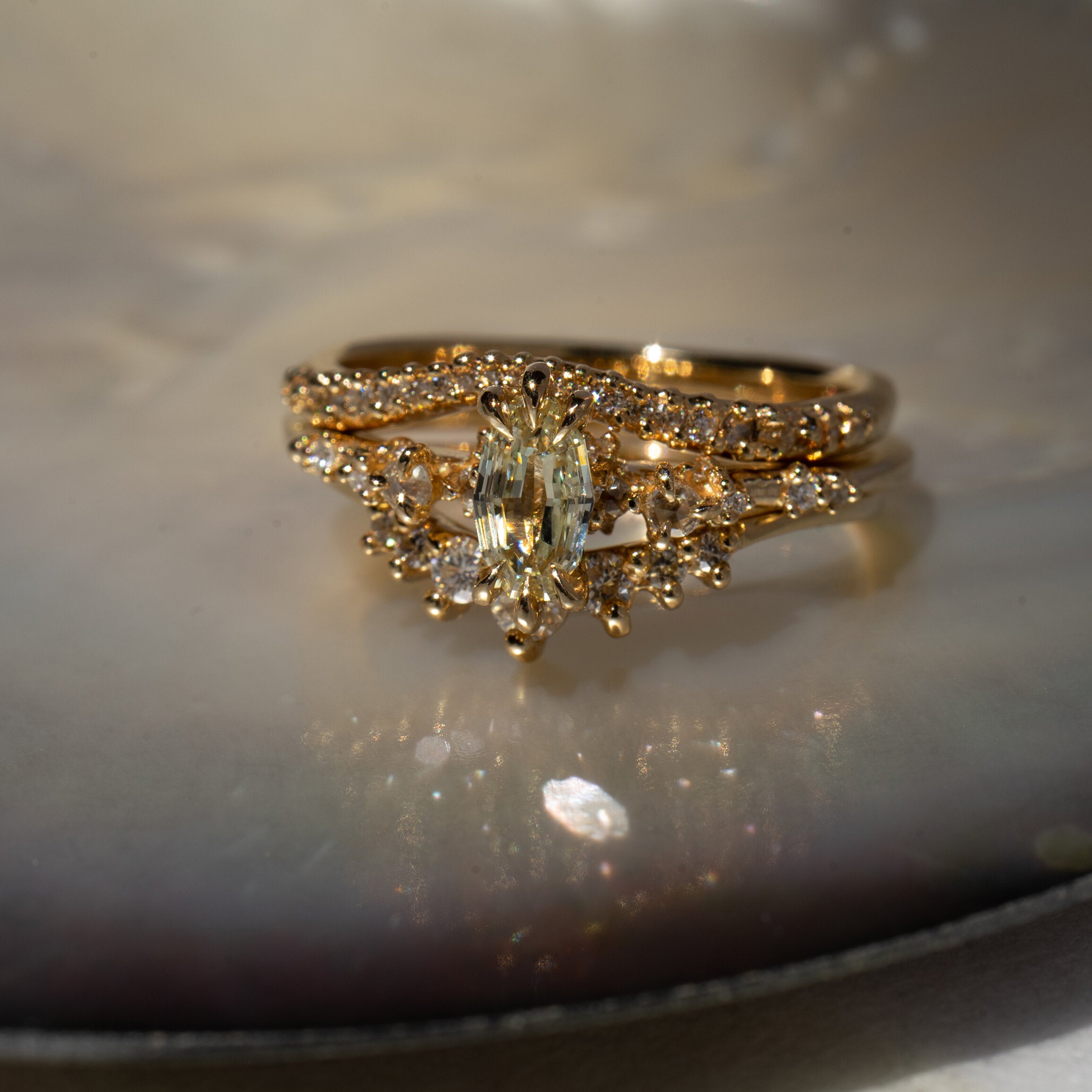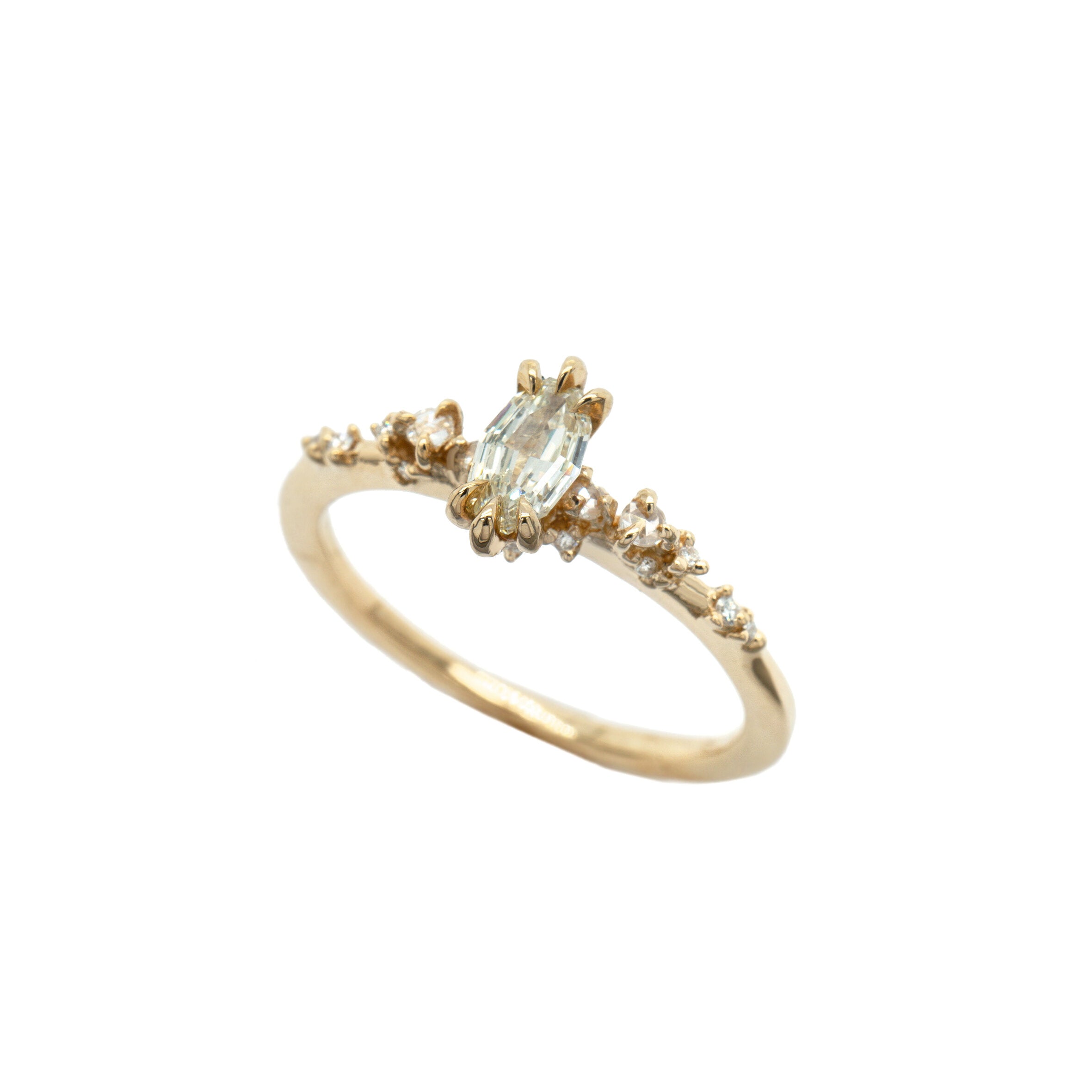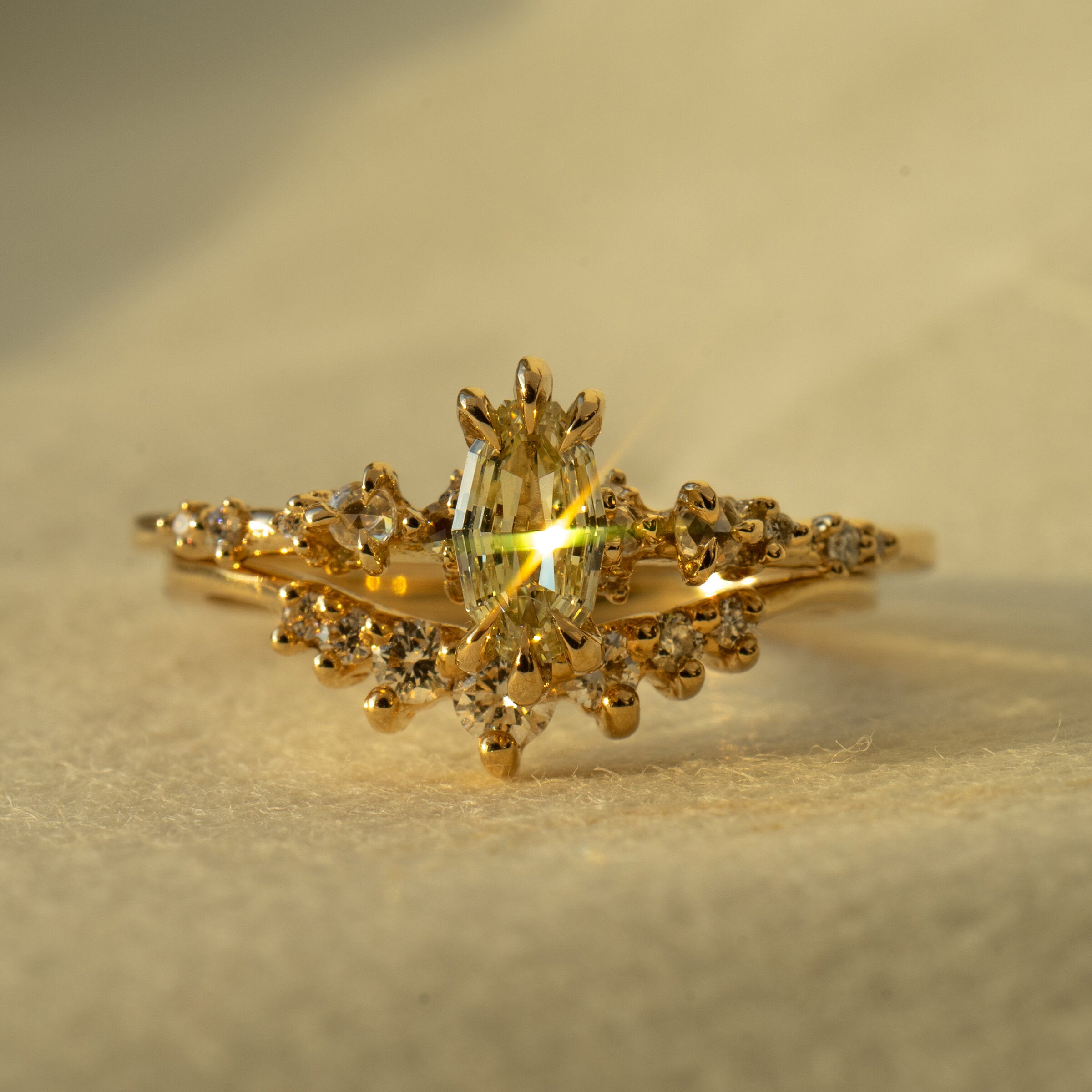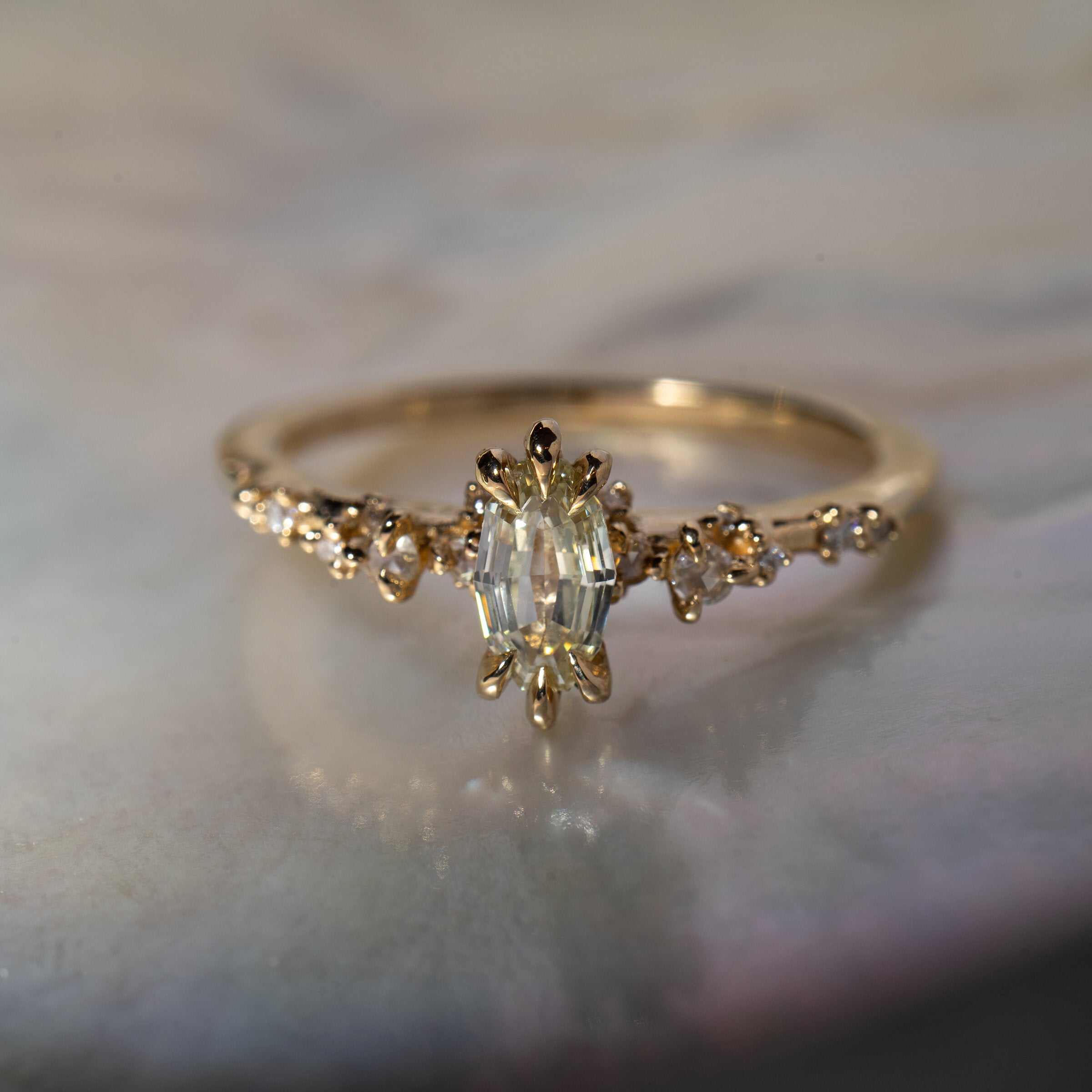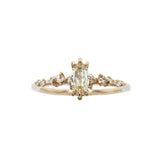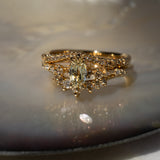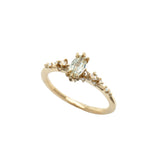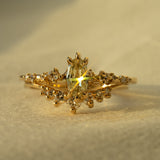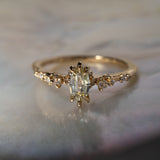 0.4ct Step Cut Oval Nereid Ring
Details
0.4ct step cut oval diamond, with VS clarity and O/P colour— just very slightly warm.
Do you need it resized?
This ring is one of a kind and ready to ship within 1-3 business days at its current size.
It can be sized down to a size 5.0 at the smallest and up to a size 8.25 at most, including quarter sizes. If your desired size falls outside of the options listed, please email us for assistance.
It will take roughly two weeks to resize.
Description

Handmade

Materials
An LF exclusive, one-of-a-kind piece
Ready to ship

Faceted of gleaming, ethereal looking glass. Slivers of light gliding along her step cut oval diamond centre, punctuated with soft rose cut diamonds and petite twinkling recycled brilliant diamonds, raising her up through the waves. This Nereid Ring features a custom 0.4ct step cut oval centre, with VS clarity and O/P colour— just very slightly warm.
14k yellow gold
Recycled round brilliant diamonds (VS GH): twelve 0.8mm, six 0.9mm, two 1.1mm
Rose cut diamonds (SI1 GHI): two 1.25mm, two 1.75mm
Centre stone is a 0.4ct step cut oval diamond (6.2x3.7mm), VS, O/P (slightly warm)
Size 7.25 - can be resized

Available in size 7.25, ready to ship. We can resize this ring up to an 8.25 and down to size 5 (roughly two weeks to resize and ship). If you would like a size above 8.25, please email us for assistance.
One of a kind pieces cannot be restocked. For a similar piece or for alternative stones, please submit a bespoke request or shop our available gemstones. This style works beautifully with all kinds of centre stone shapes, sizes and colours.
All of our pieces are entirely hand crafted in our Toronto studio by our small, talented team. Laurie hand-carves every design; they are not 3D modelled on a computer and 3D printed— this includes our bespoke pieces. Each one is carved from wax, polished and stone-set by hand.
Every piece is highly considered at every angle and carved from wax to perfectly compliment the stones that will be set. We don't use pre-fabricated, mass-produced settings made for fitting various stones and solder them on. Every setting is carved in-studio, in our signature style with special attention paid to how it will frame the stone and overall design, and how it will wear. Every small detail, down to our claw-shaped prongs, are shaped meticulously by hand.
Gold: our collection is made with recycled Canadian gold.
Champagne Gold: for more information on champagne gold, click here.
Stones: All of the stones in our collection are ethically-sourced and conflict-free. They are natural, mined stones.
Diamonds: Along with being ethically-sourced and conflict-free, we work with recycled diamonds whenever we can for the least environmental impact.
---
0.4ct Step Cut Oval Nereid Ring