First, choose a band
To create your own completely bespoke Asrai Garden Ring, begin by selecting your ring size and preferred metal with the Sleeping Petal Band or the Eos Circlet Band.
If you're looking to create an Asrai Garden Ring for engagement or wedding band purposes, we recommend the Eos Circlet Band as your ring base – its thickness allows for more durability for everyday wear while still maintaining a delicate feel with its slim knife edge.
Second, choose your fleurs
Once you've added the Sleeping Petal Band or Eos Circlet Band to your cart, you can select as many blossoms, dewdrops and fairies as you would like to have on your ring. There can never be too many or too few; feel free to select your favourites and we will arrange them by hand in a unique way, just for you.
Sorry, there are no products here.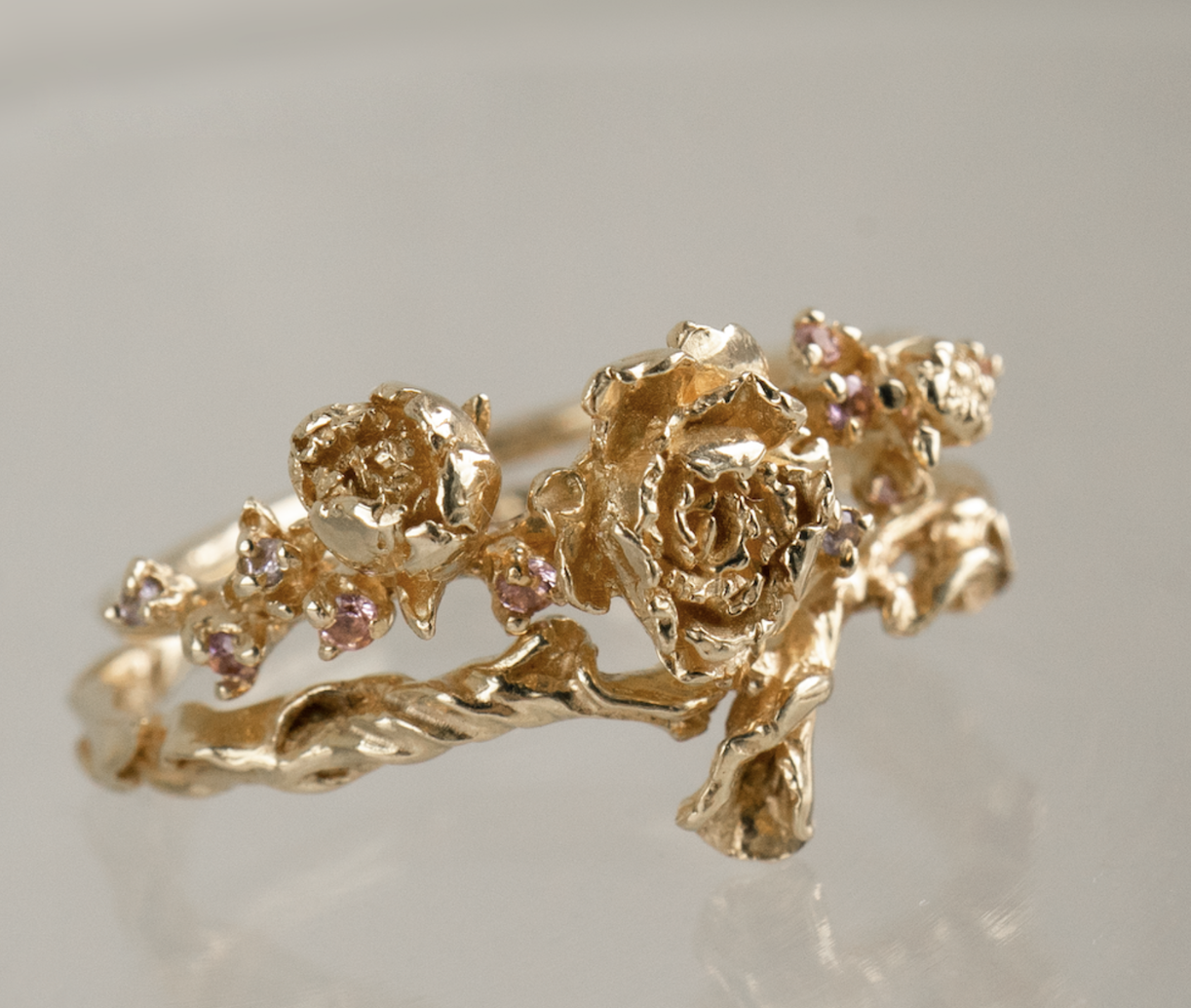 that's it! let us take care of the rest:
thoughtfully arranged
Your bouquet will be custom arranged based on the flowers you select before being cast in glowing gold. We may reorient the pieces, deconstruct, or slightly reshape them to achieve a balanced and one-of-a-kind arrangement. This means that no two rings will look the exact same. It's best to allow yourself to be surprised and entrust the design to us!
good things take time
Each ring is a labour of love. Please allow for 4-6 weeks for us to bring your arrangement to everlasting life.
you're golden
Please note that we cannot accommodate more than one metal colour per ring — so please select the same colour gold for every piece you add to your cart. If you would like any assistance with selecting your fleurs, please email us. Each piece is designed to work with every other option and there are no wrong ways to select what you like, so feel free to choose any and all that you personally love!
can't wait? opt for a ready arrangement
If you are in a rush or prefer to know what your finished ring would look like (no surprises!), please take a look at our ready to ship Asrai Garden rings. These rings are already made and can be shipped immediately (1-3 business days).