Introducing
The Asrai Garden Hoop
An eternal bouquet of gilded blooms: every petal carefully carved in miniature to float down from your lobes.
Select the hoop size to build upon and the fleurs to adorn with, and we will arrange your one-of-a-kind heirloom.
Each Asrai Garden Hoop is made entirely by hand, and no two will ever be exactly alike.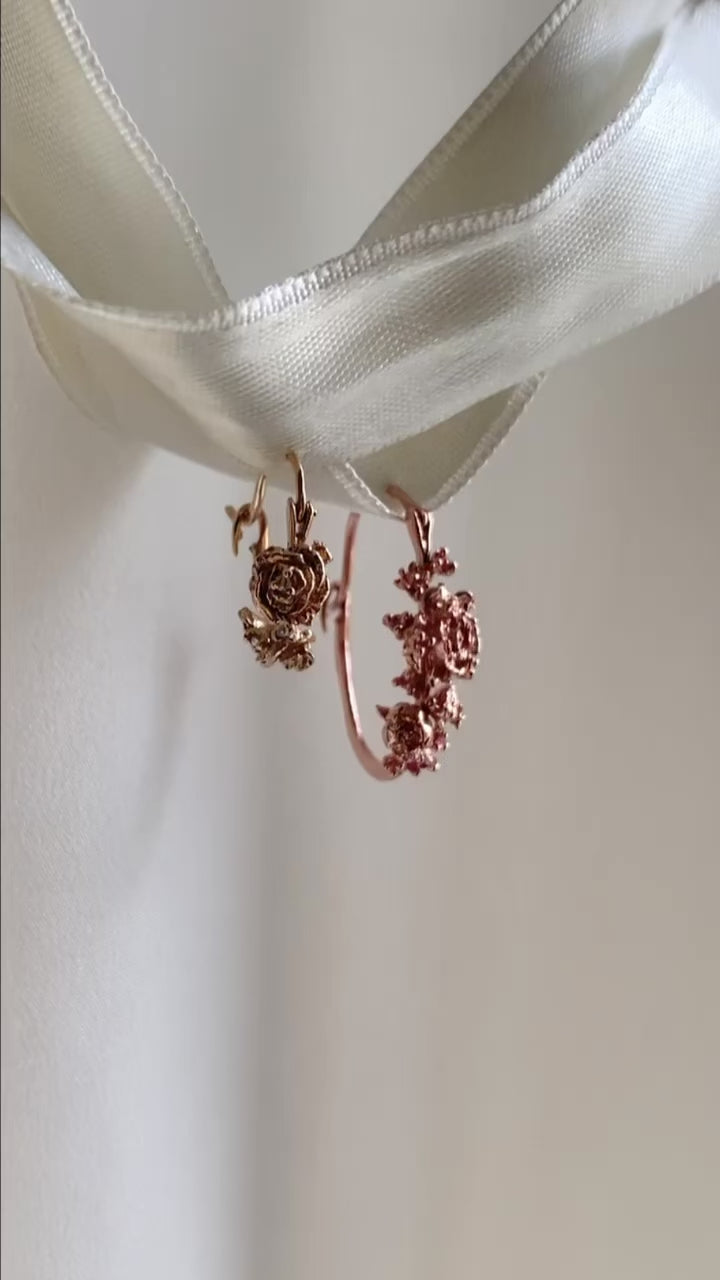 Wearing your Asrai Garden hoop
Our hoops are completely handmade—including the ear wire and closure—which snaps in place for a secure fit.
Open and close the hoops by moving the curved end of the wire in and out of the catch.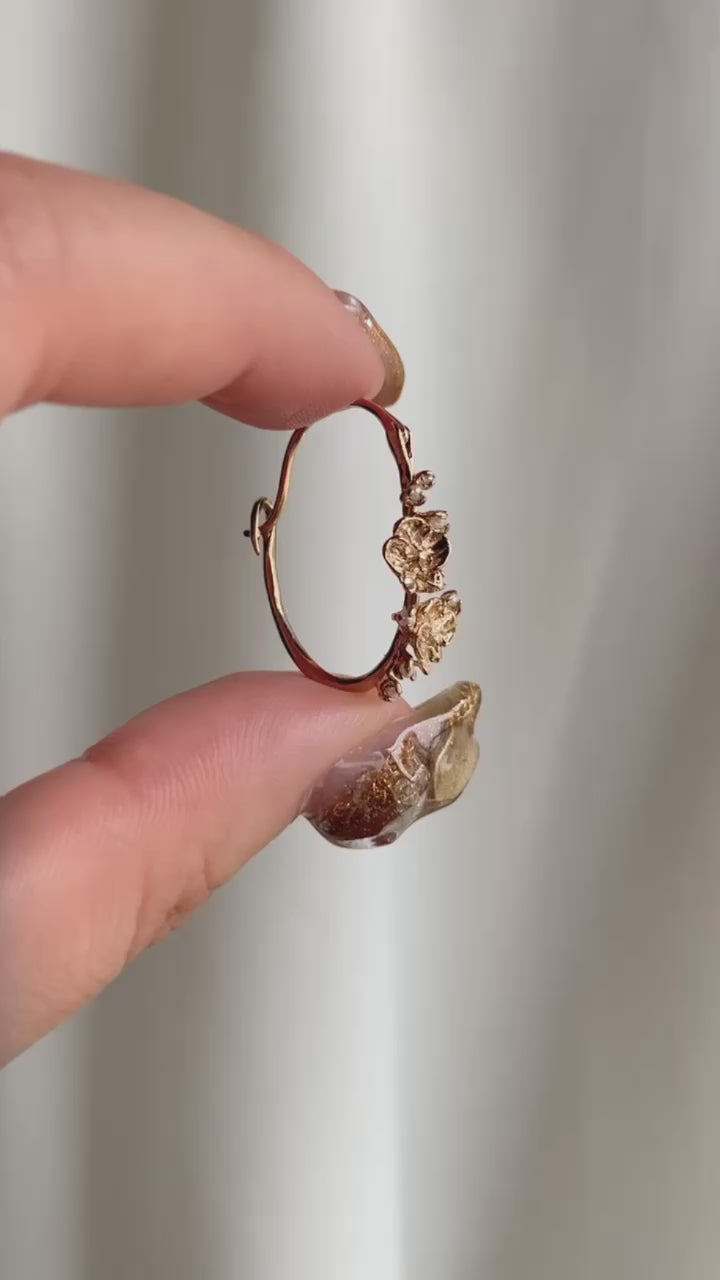 Learn more about the Asrai Garden elements
Asrai Garden Hoops FAQs

Can you create a mock-up of my Asrai Garden hoop(s) for me?

At this time we cannot offer sketches of the arrangement or specific placement requests before we create it.

Is it possible to rush my Asrai Garden hoop(s)?

Due to the way these earrings are made and because they are each one of a kind, they take some time to make and we can't rush them much. If you have a specific date you need the ring by, be sure to leave a note at checkout. We will email you if your deadline isn't possible.

If you need it soon, take a look at our collection of other Asrai Garden earrings.

Can you arrange the elements in a specific way?

We cannot accommodate requests for specific arrangements. Your bouquet will be custom arranged based on the flowers you select before being cast in glowing gold. We may reorient the pieces, deconstruct, or slightly reshape them to achieve a balanced and one-of-a-kind arrangement. This means that no two earrings will look the exact same, even if you select the exact same elements for a pair. It's best to allow yourself to be surprised and entrust the design to us!
Further customizing an Asrai Garden hoop

Can you make me something else, like a different flower not currently offered, to include on my hoop?

Each of the flower options for the Asrai Garden ring have been carefully hand carved by Laurie in a long and labour-intensive process. At this time, we cannot accomodate requests for custom flower options for the Asrai Garden collection, but we regularly add new designs!

Can you make me an Asrai Garden hoop in 18k gold or platinum?

Yes! Please email us with the details of what you were thinking (hoop size, single earring or pair, flower selections) and which metal you wanted before placing your order and we will get back to you with a quote.
Other Asrai Garden FAQs

Can you make me a ring with these elements?

Can you make me a necklace/pendant/charm/bracelet/something else using Asrai Garden elements?

Depending on what you're thinking of, we may be able to! Please email us and let us know what you were thinking about in as much detail as possible.
More Asrai Garden Collection