0.87ct Teal-Blue Montana Sapphire
We will make this ring to your specifications, and so it (and all our loose stones/bespoke rings) is final sale. Bespoke rings are not eligible for discounts, returns, or exchanges. If you have any questions, please reach out to us by email or through our contact form prior to purchasing!
In stock: ships in 1-3 business days
Made to order: ships in 4-6 weeks
Made to order: ships in 4-6 weeks
Item is unavailable
Description

Handmade

Materials
Create your very own one of a kind Laurie Fleming ring from our hand-selected curation of ethereal stones! Choose your preferred ring style, metal colour, and ring size and we will create a ring specially for you, to your specifications.
Stone Details:
Size: 0.87ct, 5.8mm diameter
Cut: Round - precision faceted by a master lapidary artist.
Colour: Rich medium-deep blue with some green present.
Clarity: Eye clean, nearly flawless. Minor inclusions are hard to find under x10 magnification.
Origin: Montana
Treatments: Routine heat treatment (a standard permanent treatment that enhances the colour and clarity of sapphires. Most sapphires are heat treated.)

Designer's notes: Precision cut like a diamond, this is an extremely saturated, rich teal blue sapphire. It's a very fine stone, in a colour most prized in Montana material. Our top recommendations would be an Ilona, Daphne, or Wild Iris in champagne, rose or yellow gold, though it would be beautiful in our other settings as well. 

Continue scrolling for additional details about the various ring style options and photos of previous bespoke examples.
Your one of a kind ring will be made-to-order—please allow 4 to 6 weeks for us to craft the piece before shipping to you.
All of our pieces are entirely hand crafted in our Toronto studio by our small, talented team. Laurie hand-carves every design; they are not 3D modelled on a computer and 3D printed— this includes our bespoke pieces. Each one is carved from wax, polished and stone-set by hand.
Every piece is highly considered at every angle and carved from wax to perfectly compliment the stones that will be set. We don't use pre-fabricated, mass-produced settings made for fitting various stones and solder them on. Every setting is carved in-studio, in our signature style with special attention paid to how it will frame the stone and overall design, and how it will wear. Every small detail, down to our claw-shaped prongs, are shaped meticulously by hand.
Gold: our collection is made with recycled Canadian gold.
Champagne Gold: for more information on champagne gold, click here.
Stones: All of the stones in our collection are ethically-sourced and conflict-free. They are natural, mined stones.
Diamonds: Along with being ethically-sourced and conflict-free, we work with recycled diamonds whenever we can for the least environmental impact.
---
0.87ct Teal-Blue Montana Sapphire
Learn more about
Our ring styles
Our loose stones can be set in a variety of our most loved styles, each crafted carefully by hand by our team of skilled goldsmiths in our downtown Toronto studio. Learn more about the different styles below and take a look at some of the one-of-a-kind rings we've made before.
Daphne
Wrapping around your finger with an ethereal, airy sparkle! Wildly delicate and finely finished, Daphne is both complex and understated, with the tiniest of details.
Ilona
An ethereal glow from a faceted moonbeam, with twinkling fairy lights floating down the band. Hand-carved with beautiful, bright 14k gold and the most petite hand-shaped claw prongs.
Nereid
Nymph of the bubbling sea, with a sweet but arcane charm about her. Slivers of light shine from her centre, punctuated with soft rose cut diamonds and petite twinkling recycled brilliant diamonds, raising her up through the waves.
Water Lily
Delicate and petite nymphaea floating on gold. Hand-carved, with the most detailed of unfurling petalled claws in bloom. A tiny pond dreamscape gleaming with an ethereal enchantment.
Wild Iris
Just as the sun illuminated the mists of the early sky, a bright rainbow burst from the suspended dew, and so was the birth of Iris. Our radiant three-stone ring with blooming diamonds, set alight and casting flickers of vivid hues from her many glittering facets. Completely hand-carved and inspired by the most regal and delicate three-petalled fleur of lore.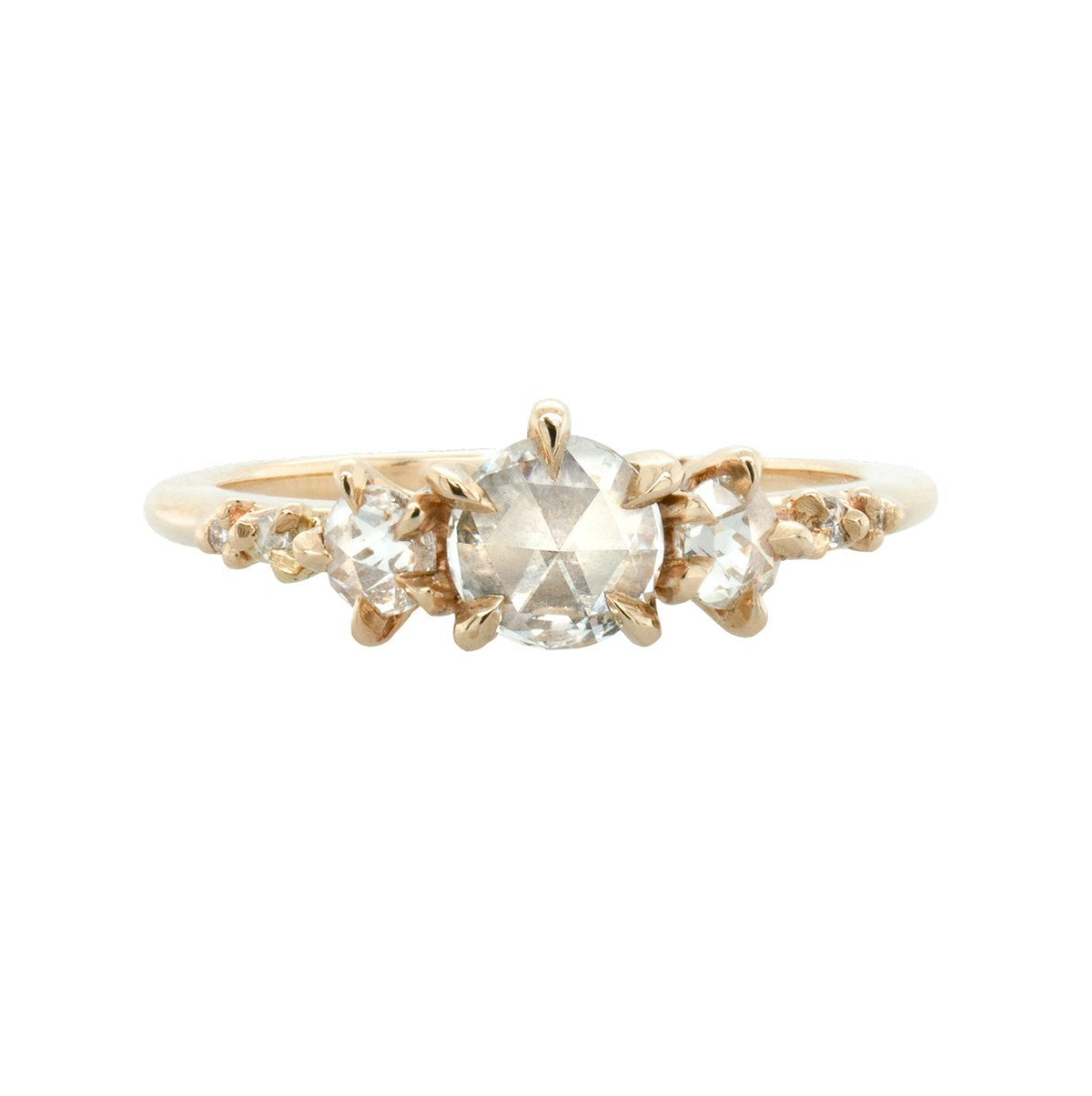 Rose Cut Wild Iris
The delicate symmetry and arrangement of our Wild Iris ring, with romantic and softly sparkling rose cut diamonds come together to create an antique-inspired beauty.
Aurelia
Ablaze with golden light, the shining Aurelia Ring. Hand-carved with a smooth, flowing band and delicate, blooming 6-prong setting.
Our loose stone collection
Create your very own one of a kind Laurie Fleming ring from our handpicked selection of ethereal stones, just for you